Medical Care Projects - 080551
Health & Medical Ministries
Siblings accomplish God-sized fundraising feat, benefiting moms and babies in DRC
Siblings Gabe and Livvy Feinn picked up the mail for their family in Louisville, Kentucky, and found a Samaritan's Purse Gift Catalog addressed to their grandmother, who lives with them.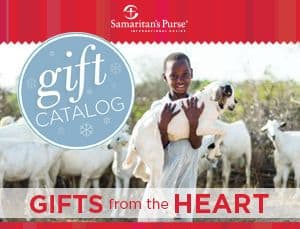 Intrigued, Gabe, 13 at the time, and Livvy, 9, decided they wanted to raise $20 to buy chickens for an impoverished family overseas. Selling cupcakes at a garage sale, they made more than twice their goal. Encouraged by their success, they decided to support a family by paying for a goat. It took them just two days to raise the money.
Gabe then told his mom, "We want to do something that takes a lot of faith." They looked at several possibilities and set their hearts on a far bigger goal: $35,000 to renovate a mission hospital.
Gabe posted on his Facebook page that he would give a cake to anyone who donated to the cause, using skills he learned in a homeschool class in cake decorating.
"I make the cakes and Gabe decorates the cakes," Livvy said. Gabe became known as "Gabe the Cake Man," and donations came pouring in.
The Lord blessed their many months of effort, and Gabe and Livvy reached their God-sized goal. Samaritan's Purse has used their funds to rebuild the maternity ward at Nyankunde Hospital in the Democratic Republic of Congo, which serves hundreds of moms and babies each year.
Recently, Gabe and Livvy returned from Nyankunde, where they celebrated the dedication of the new ward. While they were there, the first baby was born in the maternity ward, a little girl delivered via Caesarean section. Her mother was so grateful for the medical care she received that she decided to name her daughter Gabriella.
Medical Care Projects - 080551
Health & Medical Ministries
Your donation to Medical Care Projects helps Samaritan's Purse Canada meet the needs of some of the most vulnerable people around the world providing funds for life-saving medical equipment and surgical assistance, disease prevention initiatives and community health programs and training opportunities. We also offer spiritual support and eternal hope by meeting these critical needs while sharing the love of Christ.