Disaster Relief - 013310
International Crisis Response
Flooding causes devastation in Serbia and Bosnia
May, 2014—Tens of thousands of people in Serbia and Bosnia have fled their homes as the Balkan region suffers from its worst flooding in 120 years. Three months' worth of rainfall in mere days led not only to catastrophic flooding but also devastating landslides. Roads, homes, farmlands, and villages have been destroyed, and so far more than 30,000 people have been evacuated from their homes in Serbia, and 100,000 in Bosnia. At least 49 people have died, but more casualties are expected.
A Samaritan's Purse team is on the ground in Belgrade, Serbia's capital, offering support to our local partners. A three-member Disaster Assistance Response Team (DART) was on the ground in Belgrade, Serbia by May 23, including staff from Samaritan's Purse affiliate offices in the United Kingdom and Canada. Team leader Alan Cutting recently shared this story:
"Alan, Alan! This is horrible! Thing are just getting worse and worse!" Our local partner's eyes were getting wider and wider, and her ashen face reflected the latest news she had received over the phone from those her organization is serving—people she has come to consider friends.
Four days after the rains stopped, many in Serbia and Bosnia hoped the worst was over. But despite the fact that much of the world's media has moved on, we are hearing of more and more stories filled with pain and of fresh trauma since arriving in Serbia. New dangers have come with the receding waters; reports are coming in of people suffering snake and rat bites, and of freshly dislodged mudslides causing havoc and death of livestock.
We are working alongside the nation's key church leaders and Christian organizations. Teams are being mobilized to ensure food, water, non-food items (particularly sanitary items), and other essential goods are reaching those in need.
One senior pastor told me that Serbia will never be the same again. He believes this disaster will bring about a cultural shift, and we pray that it will be for the better, that many will cry out to God for His protection and salvation.
Please give generously. Your donations are needed for us to continue providing relief to devastated Serbians and others around the world affected by catastrophes. Please pray as well for those who have lost loved ones, possessions, and livelihoods because of this disaster.
Samaritan's Purse has been active in Bosnia and Serbia for many years through Operation Christmas Child and The Greatest Journey discipleship ministry. In 2013, Samaritan's Purse sent more than 50,000 gift-filled shoeboxes to bless children in each country. Over the years, Samaritan's Purse Canada has also come alongside a church in Novi Sad, Serbia to minister to the needs of their community, including hospice care and drug rehabilitation.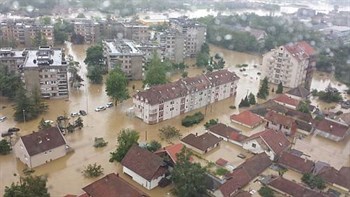 Disaster Relief - 013310
International Crisis Response
Samaritan's Purse responds to humanitarian crises with physical aid and a message of spiritual hope for victims of natural disasters, famine, poverty, and war. Your gift will allow us to share Jesus' love through clean water, food, shelter, medical supplies, personnel, and other aid.