Samaritan's Purse Water Projects
The Need
The lives of more than 1.46 million people around the world have been transformed by access to safe water and improved hygiene and sanitation through Samaritan's Purse Water Projects. Unfortunately, about 842,000 people are dying each year from diarrheal diseases caused by dirty water and poor sanitation and hygiene. That means a death every 37.5 seconds.
Samaritan's Purse Canada University Visit
Samaritan's Purse visits a Canadian university, amidst a real-life basketball game, featuring interviews with spectators and participants concerning potentially deadly water quality in many parts of the world.
Samaritan's Purse Water Projects Overview Video
Millions of people die each year from drinking contaminated water that contains potentially deadly bacteria, parasites, and viruses. But you can help turn on the tap to safe water. Your generous donation can help provide solutions for households, schools, and communities by giving them the gift of safe water.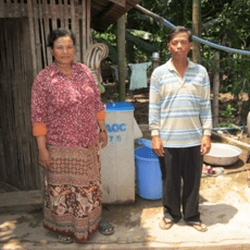 Water Heals a Broken Home
Chen Sakham's family was known as the sick people in their village in Cambodia.
Chen did not understand that the contaminated water his household used was causing regular illness. He took out his frustration-from illness that often impacted his ability to work and the family's income-on his wife, So Harn, and their three sons, provoking arguments that created a family rift.
Chen's son learned that Samaritan's Purse was installing BioSand Filters (BSFs) in their region of Cambodia, so he signed up to help build a filter so his family could have access to safe water for the first time in their lives. After the filter was installed, Chen was a changed man.
"I am happy because [Chen] is getting along with the family and neighbors," said So Harn. "Now he is able to work every day to serve the family."
Chen now shares with other villagers how drinking and washing their hands with safe water from the BSF initiated a healthier, happier life for his family.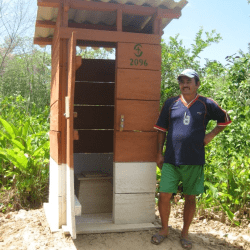 Villagers get safe water and the Good News of Jesus
Pastor Arsenio was the pastor of a large church in Brazil when he sensed the Lord urging him to move his ministry to Bolivia.
Arsenio obeyed the call and found himself in the small Bolivian village of Nueva Betania. It was a discouraging place; the community was suffering from poverty and a lack of safe drinking water. Furthermore, the village church was abandoned and neglected.
When Samaritan's Purse came to the village to distribute BSFs, Pastor Arsenio met with a group of believers and began to promote the filters, connecting with members of the community and sharing God's message of salvation. Arsenio's approach worked; 31 villagers accepted BSFs (along with important health and hygiene training) and the church came back to life.
"I am convinced that God has sent Samaritan's Purse to encourage me and contribute to growth in the congregation," he said.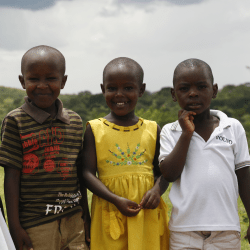 Students learn-and teach-good hygiene
Norbert has been teaching at various schools throughout northern Uganda for the past 30 years.
"Growing up, I always admired the behavior of teachers and the way they were respected," said Norbert, who first encountered Samaritan's Purse while working at Atura Primary School.
Samaritan's Purse worked with Atura Primary School to promote school hygiene and sanitation. The partnership encouraged Norbert, and he has been involved in each step of the school intervention. He, in turn, constantly encourages his students to share the hygiene messages they are learning with their families. Norbert is optimistic about the future of hygiene and sanitation practices at Atura Primary School.