"If you want to store up treasures in heaven, there are no better organizations to do it with."
That's how retired business executive Don Smith describes Samaritan's Purse Canada and its sister organization, the Billy Graham Evangelistic Association of Canada (BGEAC), when asked what advice he would give to Canadians who are contemplating where and how to make charitable donations.
"They're organizations that have been built on prayer," Smith says from his home in Spruce Grove, AB, near Edmonton. "They're spirit-led, and they walk with God."
He says Samaritan's Purse and BGEAC are also "organizations that try to hide nothing. They're open, and honest, and approachable. They have a proven track record that is reaching around the world."
Smith and his wife Jane began donating to Samaritan's Purse Canada several years ago. He was and is impressed by many aspects of the relief and development organization, including its ability to so rapidly and effectively help disaster victims, and its Operation Christmas Child ministry that delivers gift-filled shoeboxes and messages of Christ's salvation to more than 10 million struggling children each year.
The former national dairy industry executive says he values Samaritan's Purse and BGEAC for their cost-effectiveness and financial integrity: "I know when I make a contribution, they will be reliable trustees of those dollars. It won't be wasted. The maximum number of dollars will go to the ministry."
Samaritan's Purse is asked by its board to ensure at least 90 cents of every donated dollar is spent on ministry projects, with only 10 per cent available for administration and fundraising costs. BGEAC is similarly asked by its board to ensure at least 85 cents of every donated dollar goes to ministry work.
Those strict standards have helped Samaritan's Purse and BGEAC to consistently perform well in annual audits conducted by the Canadian Council of Christian Charities. Samaritan's Purse is also ranked among Canada's most well-managed charities in MoneySense magazine's annual analysis of the nation's 100 largest charities (BGEAC's donation income isn't large enough to be included in the "Charity 100").
"The transparency of the organizations impresses me," Smith says. "Their financial statements are readily available on their websites, and they're accountable and open to answering questions. And as we receive their publications (including monthly newsletters), we read them right through. They read like truth and good news-not like marketing and propaganda."
Both organizations also have a "clean record" in their fundraising methods and the moral integrity of their leadership, Smith adds. "There's never been a hint of scandal or suggestion of impropriety and . . . God has really honored that."
"Why would you support the Billy Graham Evangelistic Association and Samaritan's Purse Canada?" Smith concludes. "Because they have it all-everything you would want in an organization . . . they honor God. What a great place to park your money!"
How we manage our finances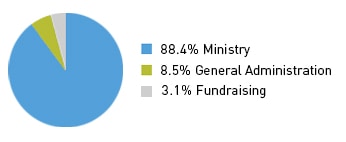 MoneySense magazine has consistently identified Samaritan's Purse as one of Canada's most cost-effective charities, based on its analysis of what we spend on administration and fundraising as a proportion of all money donated, on how much money we maintain in reserves, and on how we are governed by our board. In MoneySense's 2017 Charity 100 grades, we received an overall A grade. Samaritan's Purse is featured in the International Aid & Development sector.
How we are accountable

Canada Revenue Agency registration number: BN 11913 8527 RR0001
Samaritan's Purse Canada is audited annually by an independent public accounting firm, and our financial statement is available upon request. Occasionally we receive more contributions for a given project than can wisely be applied to that project. When this happens, we use these funds to meet a similar pressing need as directed by our Board.
Please visit our Annual Report and Financial Accountability page to learn more.