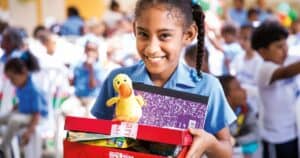 Before the millions of shoebox gifts collected each year can bring hope and joy to children around the world, each one has to be carefully inspected and made ready for international shipment by volunteers like you. Thousands of volunteers serve annually at the Calgary shoebox processing center after National Collection Week (the third week of November) and into December. Whether you're interested in serving as an individual or with a group of any size, you can have a direct part in blessing children overseas with the Gospel of Jesus Christ!
Registration begins: Monday, Oct. 2, 2023 (8 a.m. MT)
Processing Center Volunteer Dates
Nov 23 – 25 (Thu – Sat)
Nov 29 – Dec 2 (Wed – Sat)
Dec 5 – 9 (Tue – Sat)
Pack-a-Box Volunteer Dates
Contact Us
Our address is 20 Hopewell Way N.E., Calgary.
If you have any questions regarding processing center volunteer opportunities, do not hesitate to contact us at [email protected].
Calgary Processing Center Tours
Tours are available where families or groups with children younger than 14 can learn more about the project. These tours help people learn about the journey of a shoebox, what we do at the processing center, and how they can pray for children receiving boxes. Tours of the Calgary processing center are available year-round; please email [email protected] to register for a tour.
Year-Round Volunteering
We also have year-round opportunities for volunteers to serve in a variety of unique roles. Click here to learn more about these opportunities.
Frequently Asked Questions
What can I expect when I come to volunteer?
Every volunteer in the processing center plays an important role in the ministry of Operation Christmas Child, ensuring the integrity and successful delivery of the shoebox gifts. Volunteers form teams responsible for inspecting shoebox gifts, working with filler items, organizing shoebox gifts by age and gender into designated cartons, heavy lifting and sorting inappropriate items/repairing any damaged shoebox gifts.
Due to the fast-paced environment of the warehouse and changing needs, you may be asked to do different tasks. We appreciate your flexibility.
Are there employment opportunities?
Yes, we recruit staff to help coach volunteers in the processing center beginning in late August. In the summer, check our employment page to see what opportunities exist for the Calgary processing center location.
Can any age volunteer?
For safety purposes, all volunteers must be 14 years of age or older. 14-year-olds must be 14 on the day they are coming to volunteer. One chaperone (18 years or older) for every five youth (ages 14-17) is required. The primary responsibility of a chaperone is to ensure the safety and appropriate behavior of youth volunteers. For the safety of all volunteers in the warehouse, Processing Center staff reserve the right to ask any group not acting in accordance with safety procedures and outlines policies to leave the building at any time.
How can my under 14-year old child participate in Operation Christmas Child?
Packing a shoebox or hosting a shoebox packing party with their friends is an excellent way to be involved in Operation Christmas Child.
Can I update my registration?
Yes, if your group size decreases or increases, it is critical to the operation of the processing center that you notify us so these slots may be made available to volunteers on our waiting list. Email [email protected] or call 1-800-303-1269 or 403-250-6565 to make these adjustments.
What is the address of the processing center?
The processing center is at 20 Hopewell Way NE, Calgary, Alberta, T3J 5H5.
What should I wear to the processing center?
The processing center is in a warehouse, so please make proper provisions to be comfortably and appropriately dressed for this environment. Be prepared with closed-toed shoes appropriate for standing for long periods, and warm, layered, casual clothes as the temperature inside can vary. Breaks are available as needed.