Project Leader Resources
Project Leaders facilitate the packing of Operation Christmas Child shoebox gifts for a church or group. That includes you if you're ordering materials, equipping people with resources, fundraising, sharing about the project, or engaging in any other related activities. You may already be a Project Leader and don't know it!
If you are a Project Leader or would like to become one, we want to equip you with additional resources to help make shoebox packing fun and easy. In addition to the resources available below, you can join our exclusive Project Leader email list and receive special project updates when you place an order for free promotional resources and shoeboxes.
---
Media Resources
Download media kits, press releases, b-roll and photos.
---
Project Leader Facebook Group
You can also join our Project Leader Facebook Group where you can connect with other passionate Project Leaders for ideas and inspiration! As you plan and promote, please also take the lead in the most important aspect of this project—prayer!
---
Project Leader Playlist on YouTube
Are you looking for videos to share with your church or group to encourage shoebox packing this season? Take a look at our Project Leader Playlist on YouTube for a collection of Operation Christmas Child videos selected especially for you and your church or group.
---
Goal Pages
In a few easy steps, you can create a custom webpage for a church or group to track their progress toward a shoebox goal. We'll send you a link to share by email or on social media to spread the word!
Create a Goal Page →
Plan
Pray about setting a goal for how many shoebox gifts you will collect, and use the following resources to get your church or group ready for packing shoeboxes.
Sharing the Vision
8.5″ x 11″ (7 pages)
A guide for explaining Operation Christmas Child to church leadership.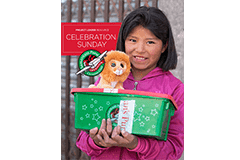 Celebration Sunday
8.5″ x 11″ (2 pages)
Celebration Event is for your church family to join together and rejoice
about what God has done through your shoebox-packing efforts.
Year-Round Collecting
8.5″ x 11″ (2 pages)
A guide to engage your congregation in gathering items for shoeboxes all 12 months of the year.
Prepare
Use the following tools to get the word out about the evangelism, discipleship, and multiplication opportunities created by shoebox gifts.
Gift Suggestions
8.5″ x 11″ (5 pages)
A detailed list of recommended items for shoebox gifts, based on age and gender.
Basic Shoebox Labels
8.5″ x 11″
Multiple labels to download and print.