Why Volunteer Year-Round?
---
Gospel Opportunities in 100+ Countries
---
Be a part of proclaiming the Gospel of Jesus Christ in more than 100 countries by volunteering with Operation Christmas Child.
Children + Families
---
Bring Good News and great joy to children and their families by working to promote shoebox packing year-round.
Worldwide Network
---
Join a global community of year-round Operation Christmas Child volunteers right from your own home.
Unique Fit
---
Find a role suited to your unique gifts and receive exclusive training, online courses, and other resources to help you succeed.
Volunteering year-round is not a full-time job but our teams work hard, set big goals, and rely on God to meet them.
Benefits
Walk through an application process to ensure placement in the role best suited for you.
Serve on a team with others—right where you live now!
Dynamic training from Samaritan's Purse, designed to develop you for ministry.
Exclusive conferences complete with worship, workshops, and networking opportunities.
Online courses designed especially for your role.
What role might be a fit?
Please consider serving in one of the following roles below.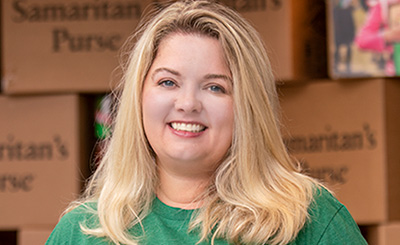 Leadership Roles
Our leadership roles focus on recruiting, leading, and developing teams of volunteers in order to accomplish the mission of the Operation Christmas Child project.
"You could do any number of charities that are doing good works, but this one is all about Jesus."
Rebecca Parker-Moore
AREA COORDINATOR
Church Relations
Church relations team members build and cultivate relationships with local Christian churches and work to mobilize and equip them to share the hope of Jesus Christ and help fulfill the Great Commission through Samaritan's Purse and Operation Christmas Child.
"Our job is to get in the door to try and explain to churches what Operation Christmas Child is all about."
Mary Johnson
CHURCH RELATIONS
Logistics
Logistics volunteers welcome shoebox contributors at local collection sites. These volunteers serve as the face of Operation Christmas Child as shoebox donations are dropped off and begin their journey around the world.
"Operation Christmas Child has changed our church because God is teaching us how to serve together."
Kyle Brown
LOGISTICS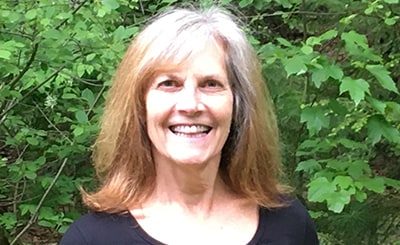 Prayer
Prayer is critical to all we do at Samaritan's Purse. Operation Christmas Child prayer team members spend time interceding for the spread of the Gospel of Jesus Christ through shoebox gifts.
"Prayer is such a central piece of Operation Christmas Child. It supports all parts of the organization."
Nancy Osborn
PRAYER
Administrative Support
Administrative support volunteers organize and manage resources and information for regional or area teams. Their work is vital to bringing Good News and great joy to children in need.
"A shoebox does not just reach one child, it reaches a community and shows them the love of Jesus."
Diane Calvert
ADMINISTRATIVE SUPPORT
Community Relations
Community relations team members use their gifts to be an ambassador in their local community. They engage and equip groups, businesses, and civic organizations to become actively involved in Operation Christmas Child.
"Every day I recruit organizations to work with us, I feel I'm making a difference."
Jill Sims
COMMUNITY RELATIONS
Media Support
Media support team members promote the message of Operation Christmas Child in their community through local print, radio, and television outlets.
"You're a point person—making contacts and connecting people."
Ben Smith
MEDIA SUPPORT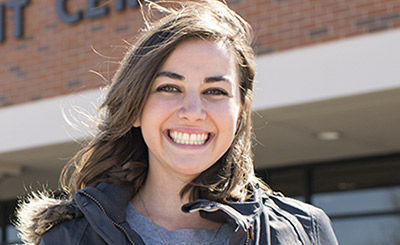 Student Relations
Serve on the student relations team as an advocate for Operation Christmas Child in schools, universities, and student organizations.
"Student relations is getting young people engaged in ministry to impact lives through Operation Christmas Child."
Adrienne Krater
STUDENT RELATIONS
Frequently Asked Questions
What would I be doing as a year-round volunteer?
As a year-round volunteer, you would be joining a worldwide network of people passionate about sharing the Gospel with children and their families. There are a variety of roles available that do anything from recruiting and developing local teams to cultivating relationships with local churches. You can explore the various roles above to determine which one might be a fit for your unique, God-given gifting!
What skills are required for these roles?
What unique skills or gifts has God given you? Recruiting and leading? Check out our Leadership roles! Cultivating relationships and equipping people? Check out Church Relations! Running a missional and efficient Drop-off Location? Check out Logistics! Interceding locally and worldwide? Check out our Prayer Team! Each role highlights distinctive skills, and every Operation Christmas Child volunteer is fully equipped and trained for their specific role when they come on board. Online training and dynamic resources will prepare and support you in your role. Read the profiles above for more ideas about how your skills and passions may connect with the mission of Operation Christmas Child.
Where is this volunteer opportunity located?
You can serve with Operation Christmas Child wherever you are since we have local volunteer Area Teams all across Canada! Once you apply and go through the interview process, we will connect you with your local Area Team and you can serve with like-minded Christians in your local community.
Can I do this if I work full time?
We have year-round volunteers in all seasons of life! Our diverse volunteer base includes individuals who work full time with busy family schedules, retirees, grandparents, stay-at-home parents, and students. There is flexibility to serve in your role on a schedule that works for you. Our teams work hard and set big goals, but we trust God and see Him work in powerful ways through the faithfulness of volunteers. Don't let the time commitment keep you from exploring this opportunity!
Can I do this if I don't have any leadership experience?
Every Operation Christmas Child volunteer is fully equipped and trained for their role when they come on board. Dynamic resources, exclusive conferences, and online training specific to your role will be made available to you. We believe God uniquely gifts and prepares those He calls to this ministry. You also serve with a local Area Team, so you have a built-in support system to encourage you in your work!
---
"That it is the most rewarding ministry I have ever had the privilege to be a part of. That God not only blesses the children we send gifts to and their families and communities, but blesses us with Himself as we serve with Him and for Him."
— Theresa
Prayer, Ontario